In this article
Need for G Suite Backup
12 Reasons Why You Need G Suite Backup Now
SysCloud's G Suite Backup Solution
How Does SysCloud Backup for G Suite Work?
Key Benefits of Google Drive & Gmail Data Backup
Are you using Google Workspace (formerly G Suite) to run your business? In case you didn't already know,  Google is not responsible for backing up your Google Workspace data. 
While Google stores multiple copies of your data and the chances of losing it is close to zero, the company does not take responsibility for data loss!
"We don't make any commitments about the content within the Services.
When permitted by law, Google, and Google's suppliers and distributors, will not be responsible for lost profits, revenues, or data, financial losses or indirect, special, consequential, exemplary, or punitive damages."
If you still choose to trust that your data is safely stored by Google – which isn't completely true– you need protection against user errors, hacker attacks like ransomware or phishing, malicious actions, and unauthorized access from lost or stolen devices. Isn't it high time you had a Google Workspace backup?
Still not convinced? Here are twelve more reasons.
12 reasons why you need G Suite backup now
1. Accidental/intentional deletion of data by users
Users on your organization domain might delete a file due to various reasons.
Creating space on the Drive: Whenever users on G Suite get a notification for running out of space, they often try to create space by deleting files that seem less important. However, this practice is risky. What if you need those files later? It will be gone forever!
Removing duplication of data: G Suite has the collaborative feature of allowing many users to work on the same file. Although this feature is quite useful, sometimes people create different versions and copies of the same file, eventually losing track of the original version! In such cases, users might accidentally delete the copies and unintentionally end up erasing the original too.
Safeguarding sensitive information: Sometimes, you need to share documents with sensitive information with team members in your organization. Once the task is over, users tend to delete the documents to prevent business-critical data from falling into the wrong hands. But what happens when the confidential information is deleted without having a backup? You can't access even when you need it, right?

2. Malicious action by 3rd party applications installed on your domain
You use third-party applications, right?
While adding third-party apps, you might click on the 'allow' button and give access without going through the list of permissions required for installing the application, because that is what everyone does, isn't it?
If you thought what harm could come out of it, be rest assured, there are a lot of possibilities!
These 'permissions' are actually invisible threats that could become the gateway for a hacker to access your data.
They could steal, tamper with or permanently delete your important files!
So, besides exercising caution while installing applications, wouldn't it help you if you had a G Suite backup data to fall back on?
3. Lost or stolen devices
With G Suite's 'Anytime, Anywhere' data and device policies, you get used to keeping your accounts signed in to multiple devices at the same time.
While this is quite convenient – saving time and efforts with ease of access – the flip side is that if your device gets stolen, it would expose all your important data and leave it at the mercy of criminals.
This could not only leak critical data pertaining to your business but also enable them to delete the only copy of your files.
Since most of the files are shared and stored on the Drive, unless people have copies stored to their own drive or device, deleting the files could erase data forever!
According to The Detroit News, a device stolen from the Blue Cross Blue Shield of Michigan had led to the data leak of nearly 15,000 customers.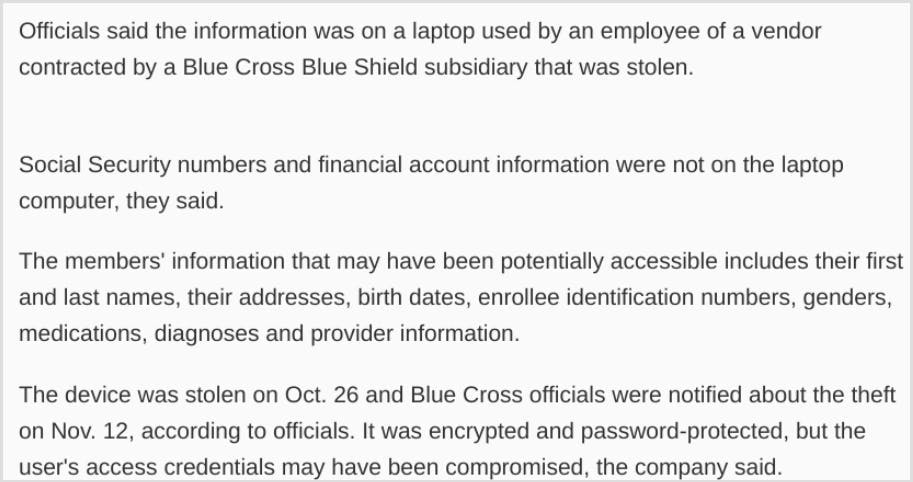 Ever since the WannaCry cyberattack, every organization – small or large – knows what a ransomware is. Ransomware is a type of malicious software which is used by attackers to encrypt and lock your data and demand a ransom for giving you the decryption keys.
So how do they gain entry into your organization? All they need to do is a cloned email with a virus attachment.
When they send this phished email to everyone in your organization, some unsuspecting employee might open and click on the link.
Once they get access, they encrypt your data and threaten you with a ransom deadline for erasing it.
The situation could worsen if you use applications to sync your desktop data to the Google Drive associated with your G Suite account.
Did you know? When you backup G Suite data with SysCloud, your backup archive is automatically scanned for the presence of ransomware.
5. Google Drive sync and desktop sync client
Are you aware of the vulnerabilities associated with using the Sync Client?
In case your desktop gets affected with Ransomware, the Sync Client – if configured to sync immediately – could immediately infect your Google Drive files, spreading rapidly and locking them too!
In such a situation, only a backup could save you from spending time and money to retrieve data.
6. Employee overwriting data
The collaboration feature of G Suite allows files and folders to be shared easily among team members.
Although this improves efficiency with multiple people working simultaneously on the same file, saving time, the downside is the probability that someone might overwrite important data.
Despite the version-control system on the G Suite that tracks changes, it is quite difficult to revoke a specific user's changes. Sounds tedious to do it manually, isn't it?
Another possibility is the deletion of a file by one of the collaborators. What if it becomes too late to recover by the time you discover it?
Having a G Suite backup solution would immediately iron out such issues.
7. Saas outage and shutdown, leading to data loss
To run your business efficiently, you might have subscribed to a Software as a Service (SaaS) application.
If you are nodding at this, have you ever wondered what might happen if the service suffers an outage?
According to ZDNet, Google had suffered a global outage on 20th August, 2020, during which time Gmail, Google Drive, Google Docs, Google Meet, and Google Voice were flagged by the company as experiencing service disruptions.
 (Gmail service disruption details on the Google Workspace Status Dashboard. Via: TechCircle)
So, unless you are prepared enough, you cannot always expect your data to be there just because it is in the cloud.
If outages could cause such chaos, what about when a service gets shut down forever? Where would all of your data go?
If you have a backup of your G Suite data, you need not bother about outages or fret over saving your data before the service provider shuts down for good
8. Accidental application overwriting
Does your business use multiple applications?
Did you know that application integrations could potentially result in loss of critical data?
Whether data is replaced completely or randomly, unless you have a backup, it would be such a difficult task to restore the original data in the application.
9. Neither Google Takeout nor Google Vault is enough
Google Takeout is a simple tool in G suite used for downloading data from all the Google Applications associated with a G Suite account. However, you cannot download data in shared folders or download all the data in a single attempt – if it is more than 50 GB in size.
Google Vault is a web-based archiving tool available for G Suite users. IT administrators can use Google Vault to retain, hold, search, and export data.
However, Google Vault does not create a separate copy of the data; it only archives the files. It means that if you delete data from Drive, it will be deleted from the archive too! To know the differences between Google Vault and a backup solution, read this.
10. Mergers and aquisitions
Whether it is a merger of two companies or acquisition of a small company by a bigger one, data migration is a vital aspect that could directly affect the success rate.
11. Legal compliance and litigation
Organizations – irrespective of size – are expected to hold records of current and historical data for litigation purpose and legal compliance.
Be it a mandatory legal compliance and regulation audit or a specific litigation – which involves investigation and legal action – nothing can be accomplished without data as evidence.
Though you can use Google Vault for creating a litigation hold and retrieve past data from archives, the data would be available only as long as it is not deleted.
In these cases, a backup solution would serve as a better option, as you would have a copy of all the data, even if it is deleted from the G Suite applications.
When employees leave an organization, the standard procedure is to back up their data and reuse the account license.
Even though you can take a manual backup – with an application like Google Takeout – you cannot restore data from the G Suite applications with their original sharing permissions!
Moreover, a backup solution can also facilitate cross-user restore – put back data into any user's account, preferably the manager's account for easy retrieval.
Also, if that employee is the owner of a file, you might lose it forever!
According to Indy Star, a fired IT employee Williams had demanded 2 million dollars just to unlock School Administration data to which only he held access control, since he was the sole administrator.
If you have a backup application, you can reset the permissions and even transfer the file ownership to someone else.
To know about restoring:
Be it accidental deletions, malware, or any of the above-mentioned reasons, recreating and restoring the data would be such a waste of time and resources.
It would not only be tedious, but the replicated data will not be 100% accurate.
Would you risk such changes, especially if it could affect critical metrics – such as finance and sales – of your organization?
Of the many reasons listed above, it takes only ONE Google Drive and Gmail disaster to wish that you had "Backed Up!" Don't wait for that to happen. Backup now.
SysCloud's G Suite backup solution gives complete protection to your Google Drive and gmail data
SysCloud is one of the third-party online cloud backup solutions that uses Amazon Web Services (AWS) to offer a fully-automated cloud for backup and restore of G Suite and Office 365 data.
Using SysCloud, businesses can easily backup and restore their Gmail data for unlimited domains as well as access the backup data in just a few clicks. The admin can also set an unlimited retention period for the users' data, if needed.
How does SysCloud backup for G Suite work?
While G Suite retains data only for a short period of time after it is deleted from Google Drive and Gmail, SysCloud lets you quickly restore a user's files or emails or entire account along with previous permissions settings – a day, a week or even years later.
For instant protection and easy setup, you can use our cloud offering to get a backup set and running in less than 10 minutes. The online Backup process appears as shown in the below figure. It is secure and only you have the keys to access your encrypted backup archives.
in a few clicks, you can automate your domain-level backup for applications such as Google Docs, Gmail, Google Calendar, and Google Contacts.
Even multiple domains – primary and subdomains – and users can be added for data backup.
You decide which users or G Suite Google Drive & Gmail services you want to back up or as a safety measure, you can back up all of the data on your domain.
Our easy-to-use management portal lets you:
– Search and restore files,
– Export a copy of documents or accounts for local archiving, and
– Run reports to monitor the status of your backups
Key benefits of Google Drive & Gmail data backup
You have seen the reasons to create a data backup and whom to choose for it.
So, what makes SysCloud the best choice for Data Backup?
Backup & restore success rates: SysCloud allows users to backup and restore data with a 100% success rate. 
License cost optimization: Admins can choose to automatically remove/suspend users who were removed from your G Suite. 
Secure data storage: SysCloud securely stores backup data archives on Amazon Web Services (AWS) with the option to select AWS country instances (Available for US, Canada, and the UK). SysCloud is SOC II Type 2 certified, stores data in a virtual private cloud, enables AES and TLS security encryption. 
Backup data protection: SysCloud constantly monitors data backup archives and notifies instances of insider threats, ransomware, phishing. SysCloud can also scan, identify and flag the presence of sensitive data in the backup archives. 
Backup apps coverage: Gmail, Google Drive, Contacts, Calendar, and Sites. 
Reports and audit-logs: SysCloud provides configurable reports for the administrator for all the backup, restore and export events. 
Backup features: SysCloud allows users to backup multiple domains automatically upto 3x times a day, provides a backup preview and instant alerts in case of failure. Admins can also configure backup retention period at a user, group or domain level. 
Restore features: SysCloud offers a powerful keyword-based search to locate lost files from the backup archives. Users can choose to restore backed up data in a single-click, download instantly or export the data.