In this article
What Is Brand Impersonation?
How Can Brands Protect Themselves and Their Customers?
Cybercriminals use every trick in the book to scam businesses. One of the most common online scams that popular brands are especially vulnerable to is a brand impersonation phishing attack!
Phishing is a cyber attack that uses emails as a weapon to trick the target. The target is made to believe that the message is from a trusted source and prompted to click on a link or to download an attachment that has malicious content in it.
According to Google Transparency Report 2018, the number of phishing sites detected per week has drastically increased from 3,800 in Nov 2007 to 49,696 in Nov 2017.
What is brand impersonation?
Brand Impersonation is a form of phishing attack where attackers pretend to be from a trusted brand/company. They send out emails that contain malicious content. These emails resemble a well-known bank, credit card company, an e-commerce portal, or even a government agency.
The aim of a brand impersonation attack is to gain confidential data of the targeted victim.
What are the motives of a hacker?
Some of the most common reasons for a brand impersonation attack are:
Using the target's login credentials to access financial details as well as initiate fund transfers,

Stealing personal information like address or phone number to sell it to others, and

Ruining the trust of a service provider's customers by charging them with false dues.
How do hackers impersonate a brand?
Source forgery refers to the process of faking the 'From' address in an email. Hackers can easily manipulate the 'From' address in an email to make it look genuine. This can be done by using SMTP services and other online tools – like Kali Linux.
Brand impersonation phishing attacks will have links embedded in the email that is designed to look reliable so that the potential target clicks on them. To make these links look genuine, hackers create false references. This can be done by using the of the webpage.
Usually, the attackers fake a company/brand website by using the following HTML code in their email:
In the above example, clicking on https://support.google.com will take the user to http://passinest.com. of the received email can be checked by the following steps :
Open the received email without clicking on any link.

Right-click anywhere in the email to see the options.

Select "Inspect" option to see the "Inspection View" of the email.
Hackers buy domains that look similar to the domain of a known brand. This makes it easier for the hackers to carry out brand impersonation attacks.
For example, the below image shows the domain names available in GoDaddy, which are similar to FedEx.
A hacker is most likely to use fedexcare.com to fake "FedEx Cares" website (fedexcares.com) which is an official FedEx website
We have analyzed a list of brands that are popular among scammers for carrying out brand impersonation attacks.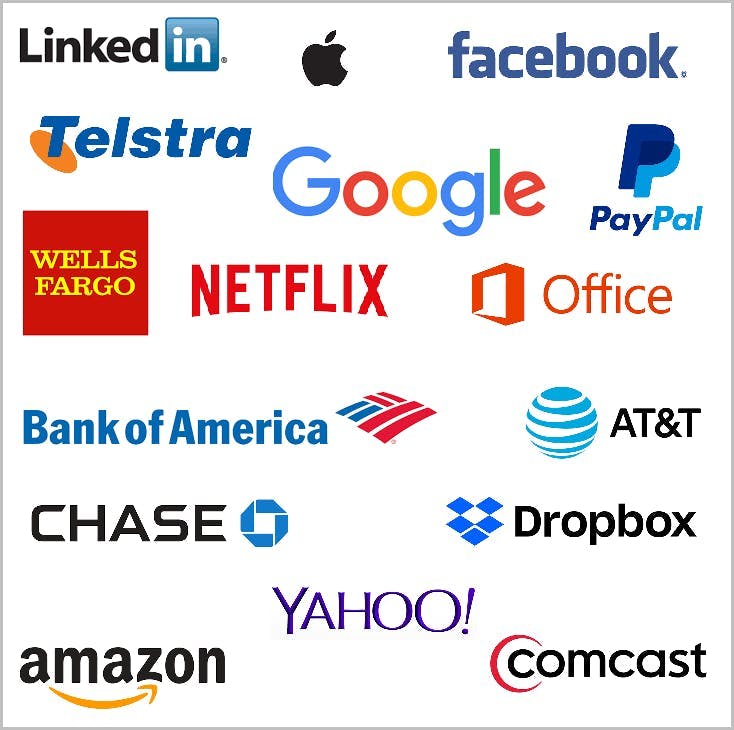 Brands like Netflix have a higher risk of brand impersonation attacks because they have millions of subscribers worldwide.
"We were unable to validate your billing information for the next billing cycle of your subscription," the hoax email states. "We'll suspend your membership if we do not receive a response from you within 48 hours."
This Netflix email scam came to light when non-subscribers of Netflix started receiving such emails. Once the attack got reported, Netflix immediately issued a warning, urging its customers not to do any payment through such links.
But the attackers didn't stop there!
A recent Netflix email scam shows that the hackers are now targeting the legitimacy of the website. This is done by using Transport Layer Security (TLS) certificates.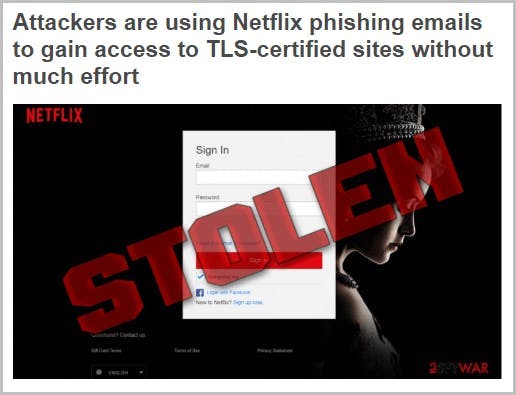 2. Bank of America phishing
Emails sent by banks are always on the top of everyone's priority list, and that's why they are always targeted by scammers.
Here is an example of a phishing attack targeting Bank of America.
Observe the image given below.
Bank of America's logo and address
Warning of account suspension

Fake link – mouseover to see the original link
It doesn't end there! Even the partner organizations associated with well-known brands – which are targeted by phishers – face high risks because these attacks can initiate a chain of cyber attacks that eventually target the partners as well.
LinkedIn has around 546 million users worldwide. Even if 10% of users are targeted with such LinkedIn phishing email, 5.4 million users will be at risk.
Unsubscribe option – similar to the original LinkedIn emails
Irrelevant suggested connections

Action to click over a link to follow or DM

Not from "messages-noreply@linkedin.com" sender address
Such attacks can have the following effects:
LinkedIn holds your professional identity which can be used for IDENTITY FRAUD.

Professionals do maintain their LinkedIn ID with their business account. Hence, LinkedIn phishing attacks can result in DATA BREACHES.
In December 2017, a number of people received a PayPal phishing email.
PayPal logo with the sender domain asservice@paypal.comconvinced many customers to click on the link to see the transaction details.
This attack was planned to acquire PayPal customer data such as:
Personal information: Name, street address, city, state, zip, country, phone number, mother's maiden name, and date of birth.

Credit card information: name, number, expiration code, security code.
Use of regular PayPal email font
Asking to download an attachment

Unauthorized access notification

'PayPal' written as 'Paypal' (Some phishing emails)

Asking to fill an attached form
In May 2017, millions of Gmail users received a Google Docs phishing email. Once the users clicked on the link, they were directed to the following page:
Since Gmail is a trusted brand, no one actually reads the "Permission Settings" before clicking on the "Allow" button. Hackers used this oversight to their advantage and created a fake page to get access to user's emails and contacts.
Official statement: "We realize people are concerned about their Google accounts, and we're now able to give a fuller explanation after further investigation. We have taken action to protect users against an email spam campaign impersonating Google Docs, which affected fewer than 0.1 percent of Gmail users. We protected users from this attack through a combination of automatic and manual actions, including removing the fake pages and applications and pushing updates through Safe Browsing, Gmail, and other anti-abuse systems. We were able to stop the campaign within approximately one hour. While contact information was accessed and used by the campaign, our investigations show that no other data was exposed. There are no further action users need to take regarding this event; users who want to review third-party apps connected to their account can visit Google Security Checkup".
Use of similar email structure
Asking for access permissions
Scammers impersonate E-commerce sites like Amazon and eBay to fraudulently access customer's credit card details.
For example, an elderly couple received an Amazon phishing email in June 2018. In the email, they were asked to confirm their account details, by clicking on a link. Once the hackers got the login credentials, they placed an order from the couple's Amazon account. Initially, both the bank and Amazon refused to refund the couple for the fraudulent transaction. It was only after verifying the IP address and order details that the bank decided to refund them the money.
Amazon logo used along with the order description

Use of regular Amazon email structure
Telstra is an Australian telecom brand that was impersonated to target a large number of their customers.
This attack was so sophisticated that it was difficult to differentiate between the original and fake Telstra Email Bill.
Recipient's Telstra account number missing from the subject line

Common salutation: 'Dear Customer'
The primary motive behind this attack was to get the following details:
Date of birth, driver's license number, and mother's maiden name
Cybercriminals use social media to target a large number of people. With Facebook phishing attacks, one can target up to 2.19 billion people!
Fake Facebook login pages are the first step toward launching a Facebook phishing scam.
The example given below shows a fake Facebook login page that's used for phishing:
Now the question is: "Is it that easy to create a fake Facebook login page?" The answer is YES! If you search 'Facebook phishing page' on Google, you will get the following results:
Wells Fargo is an American bank with over 70 million accounts. Recently, people were targeted with a Wells Fargo phishing email that said, "We have Updated Your Contact Information."
According to Wells Fargo policies, customers had to update their personal information periodically, and hence, this email actually made sense to them.
Account number missing from the subject line

Use of 'Common salutation' instead of 'Dear '

The changes were not displayed in the email. Instead, the attackers asked the customers to log in to their account to view the changes
The motive of this Wells Fargo phishing attack was to gather:
Customer login credentials
For Apple users, all of their data is stored in their iCloud account by default. The scammer sent out threatening Apple phishing emails to its customers warning them about their account suspension.
One such email is shown below:
Apple ID is not mentioned in the email

Call to action that leads to a phishing page

Apple support link is not embedded in the email
Hackers copy the Dropbox logo into their emails to add authenticity to the scams.
One such Dropbox phishing email is shown below where the potential target is asked to access the files sent via Dropbox.
On clicking "Access File Here" link, a malicious file was downloaded into their system.
The above image shows how a genuine Dropbox email will look like.
Email from "no-reply@dropbox.com"

File name with sender details
Yahoo! has around 350 million active subscribers and scammers love targeting Yahoo!.
The email is marked to 50 people

There is a warning to delete the account along with emails, contacts, and other data

The "Sign in and verify it" link points to a phishing site
Remember: Your bank, credit card company, or email service provider will never loop you into a group email. They will only communicate with you through personal email.
"Your password reset is in process and your current password will be disabled shortly the password reset link will be forwarded to the new optional email submitted".
On clicking the reset link, users were redirected to a fake Outlook login page. On entering the credentials, an error message showed up and sent the user credentials to the hackers.
JPMorgan Chase is a well-established American investment bank and financial services company. In a recent cyber attack, scammers targeted Chase customers with an email that read:
"Many of our banking improvements are inspired by customers' requests."
This Chase fraud email urged the customers to do a security update. The "SECURITY UPDATE" button was enabled with a fake link that was designed to fetch the victim's Chase bank account credentials.
Comcast has a customer base of around 22 million subscribers.
In 2017, they were attacked by brand impersonating emails, wherein the subscribers were asked to unlock their account through a link.
In this Comcast phishing email, the "Unlock" link redirects the subscribers to a malicious site that mimics Comcast (Xfinity) login page. This was done to collect user credentials.
In another Comcast phishing attack, scammers tried to fake the "Xfinity Billing Email." Here, the hackers used a proper credit card and billing template along with a proper invoice number.
On clicking the link, the users were taken to a fake Comcast login page.
AT&T is a popular choice for brand impersonation attacks.
The above AT&T phishing email says,
"Dear Valued Customer You are advised to verify and re-confirm your AT&T online account to enable us upgrade your account. Any AT&T member who fails to respond or upgrade his or her account will automatically loose the AT&T account. Response to this urgent mail would enable us to upgrade our data system for your security. To verify that your account is valid and active, simply click on the link below: Click here to verify your account now."
Other similar attacks impersonating AT&T were designed to alert potential victims about pending dues and warn them about account shut down.
How can brands protect themselves and their customers?
The brand empowers a business!
It takes years to establish a brand and to build trust among its customers.
The reputation of the organization relies solely on the brand. Once the customer is attacked by a brand impersonation email, the customer's trust on the brand is lost forever.
Moreover, it also affects market reputation, directly impacting the brand equity
Understanding brand impersonation
Having an understanding of brand impersonation attacks is the first step to stop these attacks from succeeding. Here is a snapshot of some of the key aspects of a typical brand impersonation attack.
Securing internal processes will help in preventing leakage of crucial information including email addresses that can be used for phishing attacks. This can be done by:
Restricting database access to authorized users/employees only. This helps in reducing the chances of infection by brand impersonation attacks,

Creating awareness among the employees handling customer data. They should be aware of confidentiality requirements and risks of data breach,

Identifying and reporting brand impersonation emails,

Encrypting sensitive information when it is transmitted electronically over networks or stored online. Data encryption is always a safer and better way to transmit the data, and

Implementing anti-phishing software solutions.
Customer/Employee awareness
It is essential that organizations create awareness about phishing attacks among their employees and leverage technology to prevent such attacks.
Educating customers to help them identify and report phishing attacks should be a key action item in an organization's strategy in preventing brand impersonation.
Here are a few best practices that employees should be made aware of:
1. First, when something seems too good to be true, always suspect it.
2. Second, social media has its own way of marking the 'verified' brands. Communicate with 'verified' brands only.
3. Third, look for grammatical mistakes. Fraudsters are really not good with grammar.
When you are dealing with brands over email, remember the following points:
No online service provider will ever ask you to provide your username, password, credit card number, full name, bank account number, etc. through emails.

Genuine emails will not contain any embedded links in it. They will never ask the users to fill information in forms.

They will never ask the user to download software programs from other sites or ask them to go to other sites apart from a known business site.

You should always visit the website by directly typing the address in the browser.

You should be suspicious of any email that has urgent requests for your personal information.
Interested in finding out actionable techniques to stop phishing attacks? Click here.